The ability to provide microfinishing and lapping film products converted in a fast, flexible and high-quality process is one of the major benefits which Precision Polishing – Biffignandi Spa offers to its business partners and customers.
The concept of our "Precision Polishing" division started in 2012 with our innovative business model, logo design and the infrastructure investment planning, has now become a reference point within the European market for microfinishing and lapping film. A dedicated clean conversion department (ECC – Environmental Controlled Conversion), combined with a high-quality product range, have always been key elements in this process.
In recent years, our business growth has been a result of following and driving the ever-increasing market evolvement. Our target has always been to offer the best service available. As a consequence, we then decided in the middle of 2018 to invest in the construction of a new factory to increase production volumes to meet market demands. This has given us a high degree of flexibility and expands our solution portfolio by using new technologies for our conversion equipment.
Microfinishing and lapping film conversion capabilities
Thanks to the investments made over the years in new converting machines and technologies, Precision Polishing can now manufacture in-house all the major finished products required in the market.
As a leader in the superfinishing market, most of our production capability is focused on the slitting of  microfinishing and lapping film in roll form. We are currently manufacturing rolls to a minimum width of 5mm, and standard rolls with widths of 50mm, 100mm and 200mm. The maximum width is as the original jumbo roll.
Standard lengths are available up to 300 metres. Longer lengths depend on product specification and customer requirements.
Rolls are available both with Abrasive Side Out (ASO) and Abrasive Side In (ASI).
Regarding the roll cores, we can offer various possibilities and dimensions. Cores manufactured from cardboard are not available for cleanliness reasons.
We are also manufacturing scalloped rolls (waved edges) and rolls with PSA (Pressure Sensitive Adhesive) backing.
Scalloped roll dimensions are specified as Width (W), Scallop Length (SL) and Scallop Depth (SD). They are always designed according to customers specifications or developed taking the workpiece dimensions and machine parameters into account.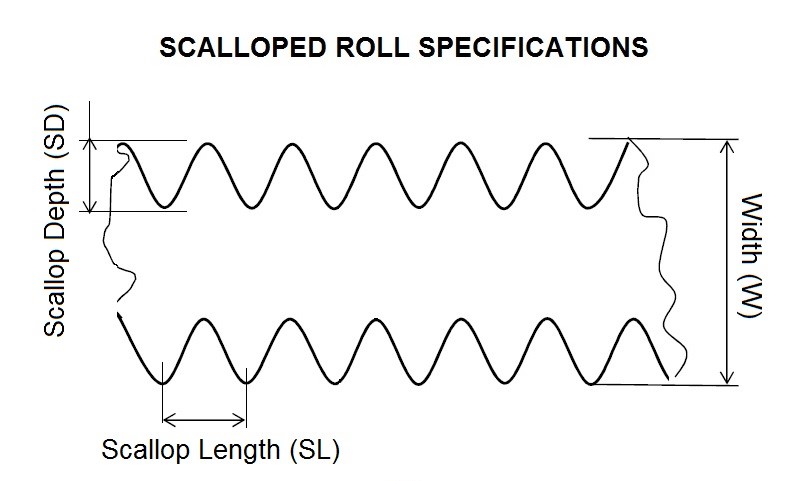 As well as rolls, we produce discs and sheets in various dimensions, both being available with plain PET backing or PSA. Standard sizes are produced on a regular basis. Non-standard or customized dimensions are available on request.
In addition to the "traditional" full cutting process, we have dedicated stamping machines capable of manufacturing PSA discs, sheets, daisies and other shapes in roll form.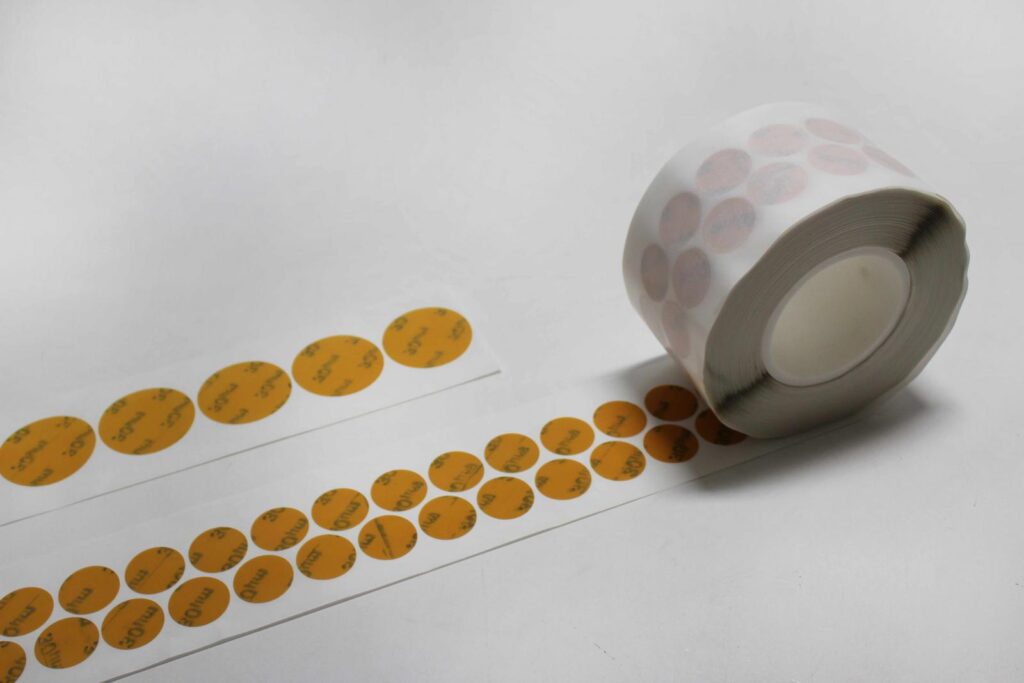 Endless belts are also available for all microfinishing and lapping film in our product range. The jointing tape can be positioned on the abrasive side or on the backing. Dimensions are always made on request.
Furthermore, we take the upmost care and attention in our cleaning procedures to maintain the highest standard in the production of the finished product.  A high level of cleanliness in the department is of paramount importance to provide a high quality and consistent conversion process free from external contamination.
Our microfinishing and lapping film product range cover an extremely wide grit range, most of which are in the very fine mesh sizes (< 10 µm). In many cases they are used for superfinishing, lapping or polishing processes where a defect caused by dirt or dust particles could be an extremely costly re-work.
To give you a more precise idea of grit sizes, look at the images below!
Given the high production capacity and the specialized handling of these materials, Precision Polishing – Biffignandi Spa is now also available to work as a subcontractor, not only for microabrasive film, but for all products that require a high precision converting process.
New microfinishing and lapping film conversion opening ceremony
At the end of February 2019, to celebrate the commencement of production, an invitation to an informal ceremony and department visit was extended to all company employees.
The managers and speakers were the same employees working in the department! They explained and showed to their colleagues of other departments what and how the job is done!
The main topics covered were:
Standard roll slitting
Narrow roll slitting
Scalloped rolls
Stamped PSA rolls
Slitting of Diamond Lapping and Polishing film rolls
Disc and sheet stamping
To meet the cleanliness standard, all the workers have to wear… a white hairnet!
Precision Polishing – Biffignandi Spa thanks all its business partners and customers for their support in our mutual growth!!