Microfinishing Films are one of the most extended and varied product family within the Precision Polishing microabrasive films products range.
Especially since the recent introduction of Diamond Microfinishing Film FD55, this group of products offers to the end-users one of the most complete portfolios available on the international markets.
For this reason, we decide to dedicate this article to give a complete and clear overview of this fundamental product range.
Microfinishing Films: features, series and grits
Concerning common features along microfinishing films product range, the grit deposition technology is surely the most relevant:  the electrostatic coating.
During this coating process the abrasive grains are electrostatically oriented and fixed between 2 layers of resin (base coat and top coat) to the PET backing film giving the following main advantages:
The thinnest and sharpest side of every abrasive grain is oriented outside of the coating, ready for an immediate cutting action.
The abrasive grains are strongly fixed within the double resin layers, ensuring a long-lasting performance.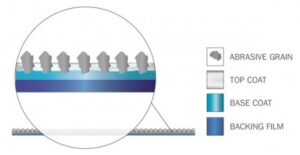 Another common point is that all microfinishing films products are back printed in order to easily identify the required grit.
This is a substantial difference with the Polishing or Lapping film, where differentiation between grits / products occurs exclusively thanks to color-coding.
Especially concerning the back printing of FA50 and FS50 microfinishing films series, Precision Polishing adopts a unique system of inclined printing (not parallel to the roll direction) made of lines and alpha-numeric characters.
This system has been developed especially thinking to customers that work with narrow slitted rolls (mostly required in the powertrain industry) because, seldom occurs, that roll brakes during the superfinishing processes. When this happen, the user must manually joint the 2 broke sides of the roll in order to start again the working process.
During this joint operation is essential to not mix up the abrasive side with back side of the broken tape! It could happen especially we medium-fine grits are used where the feeling of the fingers could be misled!
The below image shows how our back-printing structure helps to avoid this inconvenience!
In the below scheme are summarised the main features of microfinishing films standard series available in the Precision Polishing portfolio: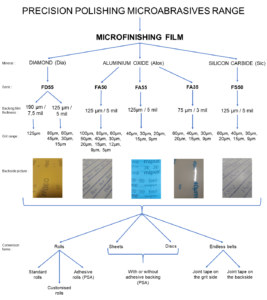 Conversion forms options: 
Like every microabrasive film in the Precision Polishing product range, Precision Polishing microfinishing films are converted into several product types as:
Rolls
Discs and sheets
Endless belts
Thanks to the integrated and efficient conversion process, Precision Polishing offers a fast and flexible service both on standard and customised items.
Here below some products examples:
Rolls: we offer a huge variety of customization options in order to always provide to the end-users the most adapt solution.o    Widths: From min. of 5mm to max. jumbo roll width
o    Lengths: From min. of 1mt to max. 300mt
o    Inner cores options: 26mm i.d. plastic core, no core (hole 32mm i.d.), 76mm i.d., 76mm i.d. with 4 keys.
o    Winding direction: ASO (Abrasive Side Out) or ASI (Abrasive Side In)
o    Edges: Straight or Waved/Scalloped
o    Back side: plain or adhesive (PSA)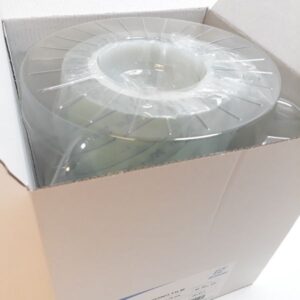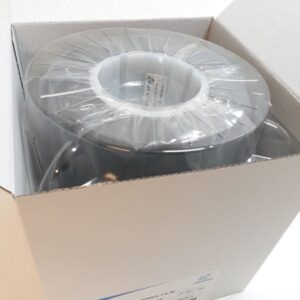 Discs and sheets:
o    Available without (PET) or with adhesive (PSA) backing
o    Disc standard diameters are: 200mm, 203mm, 230mm, 250mm, 254mm, 300mm and 305mm. Other diameters are available on request, up to a maximum diameter of 350mm. Larger diameters may also be accommodated
o    Sheets PET max. width is the jumbo width and max. length is 1mt
o    Sheets PSA max. width is 350mm and max. length is 1mt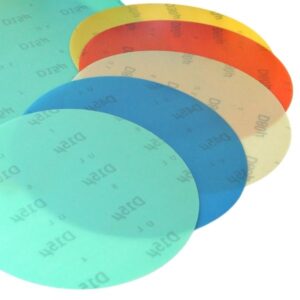 Endless belts:
o    Width: Min. 10mm and max. the jumbo width
o    Length: Min. 320mm and max. None
o    Jointing tape positioned on the abrasive side or on the backing
If you like to have more detailed information regarding the Precision Polishing microfinishing film conversion processes, please write us.