Description
FA30 Polishing Film is a microabrasive product with micron-graded grains slurry coated on high precision 75 µm/3 mil film, which gives a high-accuracy finishing and excellent flexibility and durability.
It can be used either dry or water emulsion.
The main applications for polishing film are for metal, plastic and rubber materials, fiber optic connectors and other finishing and lapping process. It is available in PSA (Pressure Sentitive Adhesive) as discs, sheet and rolls.
ROUGHNESS Ra EXAMPLE OF HARD CHROME PLATED CYLINDER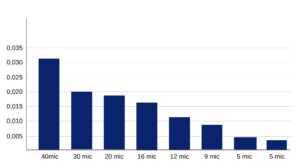 Main features:
High precision finishing
Top quality selection of aluminium oxide grits
Versatile 75 micron base film with excellent resistance to both water and oil
Enables to use in automated polish equipment
Applications:
Metals, plastic and rubber materials
Fiber optics: Connectors & Lighting
Metallography
Other finishing and lapping process
Standard forms:
Rolls : 100mm / 200mm X 50mt X 76mm plastic 4 keyed core
Sheets: 230mm X 280mm
Discs : 127 mm / 203 mm / 254 mm / 305 mm / 350 mm
Read more: Polishing films are found in specialised high-quality markets such as watchmakers and jewellers.
👉🏻 Excited to find out more information about Polishing Film? Feel free to click here!